This is a miniature kit with 3D diorama, booknook and decoration all in one. Perfect combination of infinite creativity and bookshelves, as well as personalized scene design, constructs a real miniature world, making your thin bookshelves more artistic and interesting.
Material:
High quality natural eco-friendly wood
Dimension:
H: 10.7"(27.3cm)
W: 4.3"(11cm)
D: 7.1"(18cm)
Difficulty:
Music Box:
Sherlock Holmes is a brilliant fictional detective created by the late 19th-century British crime novelist, Arthur Conan Doyle. His thrilling and suspenseful stories often make readers feel as if they are right in the midst of the action. Inspired by this, the design of a book nook with a detective theme was conceived.
"Who is the real culprit, anything is possible." With intricate and mysterious questioning, incomprehensible codes, and embodying Sherlock Holmes to unlock the clues of the case, we seek the truth.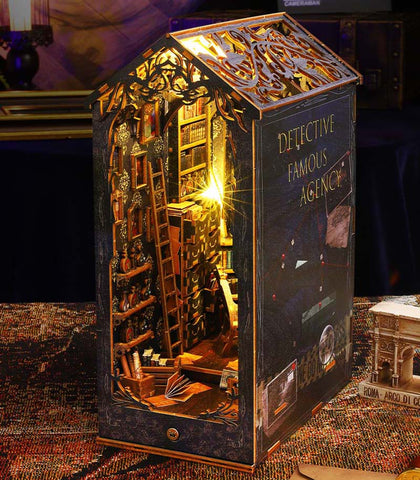 An Eternal Masterpiece -

Detective Agency

's unique design will never lose its charm as a showpiece in your home. Display it with pride, showcasing its timeless beauty. Moreover, when adorned with warm lights in the darkness, it exudes an enchanting allure!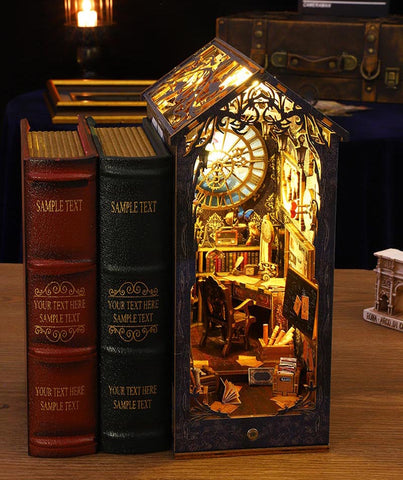 ❤ Warm Tips:
Due to customs policy, glue or battery may not be included in the package, you need to prepare it by yourself.
You can choose any 

craft

 glue and 2 pcs batteries (type AA).