Step into the enchanting Mole's Apartment, where joy fills every corner. Each floor radiates unique creativity and is adorned with vibrant décor. In this tiny world, moles and small animals live, play, and share delightful meals, creating a happy atmosphere with every tiny detail.
Product name: Mole Apartment
Number of parts: 253Pcs
Main material: imported density board
Product weight: 0875kg
Assembly time: 3~6 hours
Assembly size: 26.8*18*11cm
Welcome to a whimsical world! Let's craft a story that's uniquely yours and your friends. Immerse your dreams into this space, where limits don't exist!
The instructions are clear and easy to make!
Socket wiring: concealed wiring, does not affect the beauty
Details: snap assembly, less glue use, better protection of the environment
Color manual: 3D three-dimensional tips instructions, so that the assembly is easier
The new dust sheet features a slot insert design for easy installation. Align and insert it into the book stand slot to swiftly secure it!
New LED light touch switch!
There are more exquisite details waiting for you to explore!
There are more exquisite details waiting for you to explore!

Lawn party at the door
Mole's underground burrow
Mole's mailbox
cozy bedroom
So many delicious kitchens
The mysterious backdoor
etc.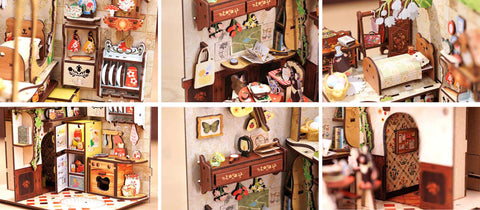 Warm Tips:

Adhesives and batteries are not included. This is because air transportation is prohibited.
The kit is suitable for people over 14 years old.
After receiving the product, please do not immediately discard the box and some of the bags inside.
If you require after-sales service, kindly provide a photo of the blue seal inside the box. If there are issues with components, please provide a photo of the number on the transparent bag.