Create Unlimited Possibilities in Limited Space. Stories often begin with dreams, owning a flying house of your own, and going through a gorgeous adventure with the original intention of adventure.
Material
High quality natural eco-friendly wood
Dimension
H: 9.65"(24.5cm)
W: 3.15"(8cm)
D: 7.17"(18.2cm)
Difficulty:
FUN DIY EXPERIENCE
When the balloon in full bloom takes off with the flying house, the unknown journey is exciting. He used to shuttle in the streets, and was in a daze on the balcony of the red house facing the road. At that time, his mind was always full of dreams about flying houses.
Design inspiration
Many people who are busy with life on the street have forgotten to look up and their dreams when they were young, and trivial things have smoothed the hearts of dreamers. The high-rise building at the corner looks at the flying house rising until it goes away. They envy this rebel who is riding a balloon, and will no longer be bound by the earth. They long for themselves and travel freely.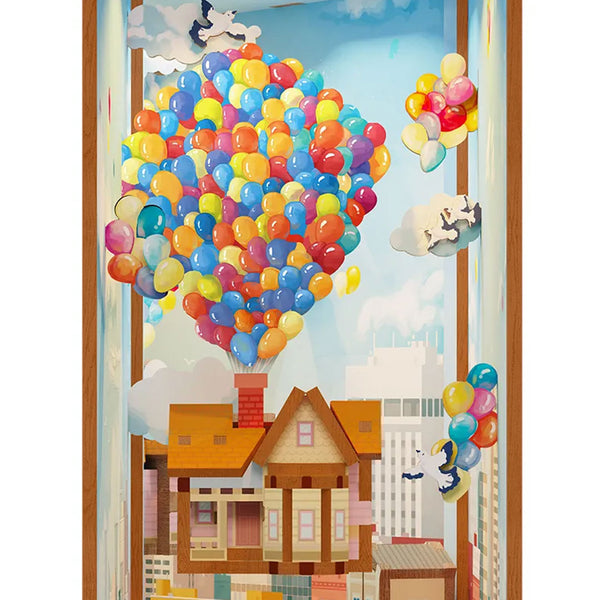 Function: Book Nook, Toy, Gift, Home Decoration, Bookend, Bookstand
❤ Warm Tips:
Due to customs policy, glue or battery may not be included in the package, you need to prepare it by yourself.
You can choose any craft glue and 3 pcs batteries (type AA).