One must never allow the fire in one's own soul to go out. --------Vincent van Gogh

We are deeply attracted by Mr. Van Gogh's lonely idealistic spirit. If you return to the small town of Arles, France in 1888, what would it be like to visit Van Gogh at the peak of his creation?
Function: puzzle, stress relief, sleep aid
Finished product size: 180x145x154mm
Primary Material: Wood MDF
Power supply: USB cable
Timed shutdown setting: 15/30/45/60/75/90/105 minutes automatic shutdown
Assembly time: 3~6 hours
Bonus: Recessed acrylic dust cover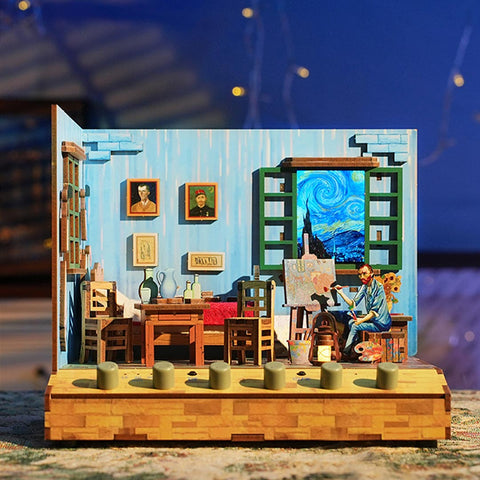 The lonely idealist
Reproduce the classic paintings of Van Gogh
Six kinds of sound effects can be adjusted at will, superimposed and played in seconds to become a "mixer master"
[The volume can also be adjusted by the knob]

The dynamic window view of the LCD screen changes with the sound effect

With its own lights, the ambiance of the cabin is super good

The timer shutdown function is suitable for white noise sleep aids,

Equipped with an acrylic dust cover to shield the cabin from wind and dust~
Six sound effects:
Breeze sound
River sound
Birdsong
Bug sound
Thunderstorm sound
fireplace bonfire sound
The dynamic visual effect allows you to immerse yourself in it faster, feel the unique artistic atmosphere of Van Gogh's bedroom, and heal your body and mind in creation.